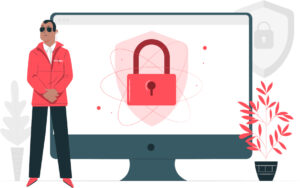 Let's start with what a password manager is. It is a service, mainly online, that can store all of your passwords and valuable data (such as card details), it can handle your Multi-factor Authentication (MFA/2FA) as well. It uses military grade encryption to protect your data, and creates extremely strong passwords for your accounts, doing the work for you and stopping one of the largest holes in your current security - weak and easy to guess passwords.
All you need to do, is remember one password and authenticate it when you log in. Password managers work on your browser, mobile devices and on your computers. Once logged in, you can set it to automatically fill in the details for you on login pages.

But why use a paid for one?
Well that's simple. The ones built into you web browser only work when you logged in to the browser and there isn't as much protection - they are free for a reason! But password managers a brilliant tool that can increase your security, make it easier to access details and more importantly to manage your business.
When a member of staff leaves, where are they keeping company passwords? Where are they keeping company credit cards details? With a centrally managed Password manager you can access some of the information. You can also create teams to share details, so when a password is changed, it changes everyone's without having to write an email or send a memo. Your IT department can manage it, if you don't have an IT department we can help you with this or talk to your IT Support Account manager.
Up to 4 out of 5 adults are not using a password manager at the moment, and it could be costing you money! Every time you call a software engineer on your bespoke system you could be paying them an hourly rate to fix the issue and to send a reset link, or your wasting time waiting for the email with a password reset link to come in.
What about all of your current passwords? Well as you enter them, they will be judged - that may sound harsh, but the system will look to see if it meets the criteria it works to. If they don't, or they match another in the manager, it will notify you.
The password manager itself cannot access the details or data itself, as the data is encrypted as it leaves your device. Its called zero-knowledge and means you are working at the right end of security.

How to set up a Password Manager
Choose a password manager and set up an account
Pick one that fits your business, they can start from £3 per user per month, don't go cheap or free.
Make sure the plan you pick has the features you're wanting from a Password Manager, such as Emergency Access.

Setting up your Account
As you setup your account, you'll need to create a master password. This is the only password that you have to remember - make sure complex enough to make it difficult for others to guess, but that you can remember. But don't use the same one as another of your accounts.
Make sure you setup Emergency Access. If you forget your password or are unable to login, predefined people can make the request and after a period of time, they'll be granted that access. Make sure the waiting period is long enough that you can block any unauthorised requests. Remember, if you forget your password and don't have Emergency Access setup, that's it, you're locked out unless you have a centrally managed one with an IT Support company, who will have some access to change it for you.

Install the Software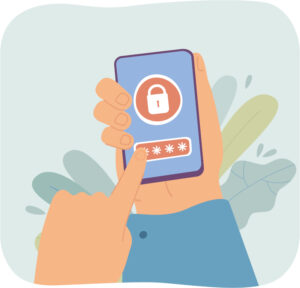 Once you're set up, you can download and install the software to your devices. You can find download links on your password manager's website, or in the device store, for any other devices you may want to use it on. If your password manager offers a browser extension, install it - it will make auto-filling your passwords on sites much easier.
After that, you'll need to add your current passwords. A lot password managers offer simple ways to import your passwords from various locations, such as your browser or a spreadsheet. If you don't have this you can do it manually.
Once your passwords are in, you're set. As long as you are logged into your password manager, it will offer to auto fill your information as you visit the sites and services you use. It will also offer to save new, secure login details as you create new accounts – increasing your online security.
Our preference is LastPass, but others are available such as 1Password and Keeper. Why not give us a call for some FREE advice on what to do?
Credit
Mobile website vector created by pch.vector - www.freepik.com
Web security vector created by storyset - www.freepik.com